Carbon Brick is one kind of neutral refractory products with high-temperature resistance performance, which is made with carbon as the main raw material mixed with proper amount binding agent and is mainly used in the field of metallurgical industry as the protection refractory materials for furnace bottom and hearth. RS Kiln Refractory Company, as a professional carbon brick supplier in China, can manufacture high-quality carbon refractory bricks with our advanced technology and professional engineers. RS Kiln Refractory Carbon Bricks can be customized in sizes, densities and shapes according to your special requirements. RS will try our best to help you save your carbon brick cost and give you a great price quote! Welcome to Email us for the detailed information.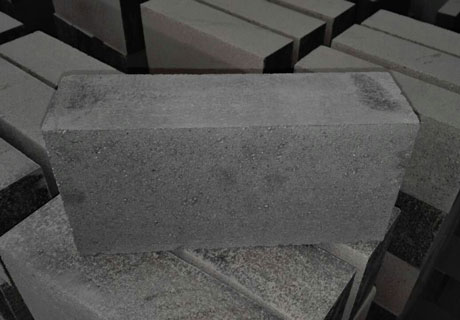 Carbon Brick Wiki
Raw materials of carbon brick include anthracite, coke and graphite and binding agent of pitch, tar and carbolineum and etc. Low volatile component and dense structure of anthracitic as the aggregate of carbon brick production mix metallurgical coke and metallurgical coke of pitch.
Ingredient of Carbon Block take the calcinated granulated anthracite as the aggregate, of which particle size based on the product size that large brick is 8~12mm and small brick is 4~6mm.
For the amount of anthracite coal is about 60%. Adding coke powder, of which about 70% content's particle size is less than 88 microns. Generally, add 15-20% content of binding agent for Carbon brick of blast furnace.
In order to prevent oxidation, adobe in firing generally takes coke blacking or pulverized coal as the protection filler.
Sintering temperature is 1300 ~ 1450 ℃, soaking time is about 20 hours, the total sintering time is about 240 ~ 420 hours, the cooling temperature is down to 40 ~ 60 ℃ when ready to out from kiln. Carbon brick out from the kiln with the high-temperature is easy to burst into flames.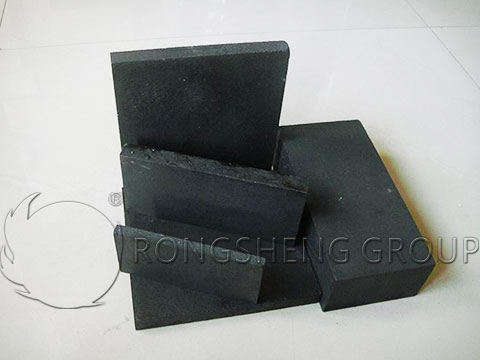 Types of Carbon Bricks
Ordinary Carbon Brick
Ordinary carbon brick is a neutral refractory made of coke or heat-treated anthracite and coal tar in a reducing flame. Carbon content is about 88%-90%. It has high thermal stability, refractoriness, thermal conductivity, and electrical conductivity. It can resist the erosion of molten metal and slag, but it is easily oxidized.
Ordinary blast furnace carbon bricks are used to build medium-sized blast furnaces with a low smelting strength and a volume of 1000-2500m3. Take high-quality anthracite (calcining temperature around 1250℃) as the main raw material, and add a certain amount of metallurgical coke and graphite, after extrusion. The green body is put into a roasting furnace for roasting, and the temperature should reach above 1100°C. After roasting, use a milling machine and planer for machining according to the drawings provided by the user. The processed carbon bricks are pre-installed in the manufacturing plant and the gaps between adjacent blocks are checked.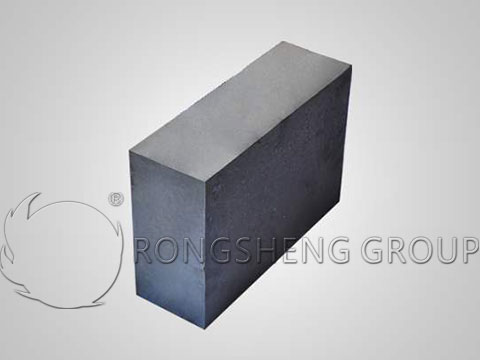 Microporous Carbon Brick
In order to improve the shortcomings of ordinary carbon bricks of poor oxidation resistance, corrosion resistance, and permeability, microporous carbon bricks with an average pore diameter less than 0.5 μm have been developed. Microporous carbon brick is a refractory product made of high-temperature (1500-2000°C) calcined anthracite as the main raw material, adding a small amount of graphite powder and silicon powder, and using medium-temperature pitch as a binder.
Microporous carbon bricks not only have excellent conventional properties but also have good alkali resistance, thermal conductivity, molten iron corrosion resistance, oxidation resistance and molten iron penetration resistance. Microporous carbon bricks are mainly used in the abnormally corroded areas and the severely corroded parts of the annular joint on the blast furnace, as well as other weak links in the blast furnace.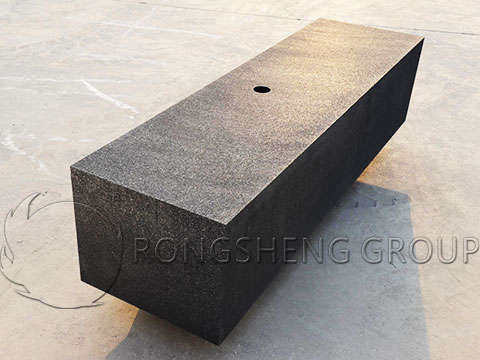 Blast Furnace Self-baking Carbon Brick
Self-baking carbon brick is a kind of carbon refractory material developed by Chinese iron smelting and carbon production workers after years of arduous exploration. Self-baking carbon bricks are made of high-temperature burning anthracite as aggregate, burning anthracite and coke mixed powder as the fine powder, medium-temperature coal tar pitch as binder, uniformly kneaded at a certain temperature, and formed by high-frequency compression vibration molding. Products with precise dimensions and specific physical and chemical properties. It has the characteristics of high-temperature resistance, good thermal conductivity, high-temperature strength, strong slag and iron corrosion resistance, and low price.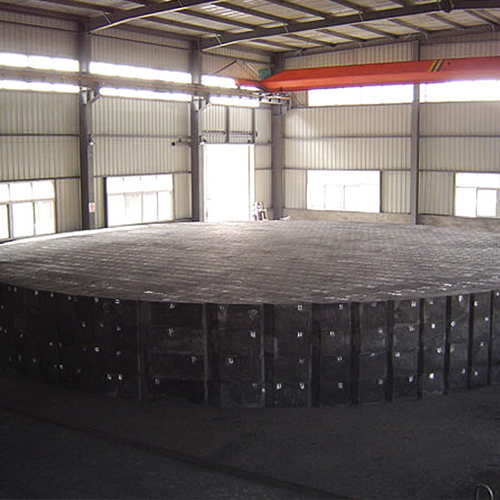 High Temperature Molded Carbon Brick
The high-temperature molded carbon brick is a product successfully developed by United Carbon Corporation (UCAR) in the 1970s. High-temperature molded carbon bricks have excellent high-temperature properties. High thermal conductivity and good conductivity. Good resistance to alkali corrosion. Good thermal shock resistance and thermal shock resistance. Low permeability, small porosity, closed pores, extremely weak water absorption, small carbon brick size, and small temperature difference of a single carbon brick. Mainly used for hearth, hearth, lower furnace body, and other parts. Due to the limitation of the high-temperature molding process, the size of this kind of carbon brick is small, about 500mm×250mm×120mm. When using high-temperature molded carbon bricks, unique masonry design and special bonding materials are required.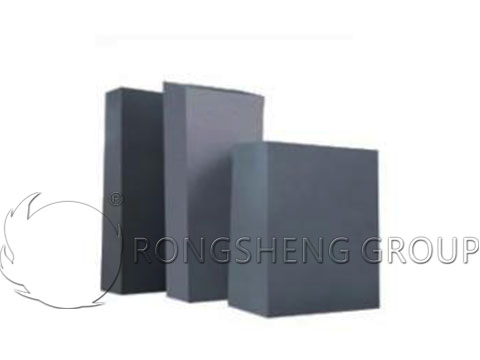 Semi-Graphite Carbon Brick
The main feature of semi-graphite carbon bricks is the use of high temperature electric calcined anthracite as raw materials. The temperature of electric calcination can reach 1500~2000℃, which makes the anthracite enter a semi-graphitized state (the resistivity is lower than that of the general calcined anthracite by more than 50%). In production, semi-graphite carbon bricks generally do not use metallurgical coke as a powder but use ground graphite chips (graphite electrode waste or cutting chips during processing) as powder. The thermal conductivity of this semi-graphite brick has been significantly improved, and the corrosion resistance of alkali metal salts is much better than that of ordinary carbon bricks, and it has a tendency to gradually replace ordinary carbon bricks. Semi-graphite blast furnace carbon bricks are used to build the lower part of the furnace bottom and the upper part of the hearth of the strengthened smelting blast furnace. The semi-graphite cathode carbon block has excellent properties such as good conductivity and strong corrosion resistance. Used in aluminum electrolyzers, it can reduce power consumption and increase the life of electrolyzers. It is an excellent lining material for electrolyzers.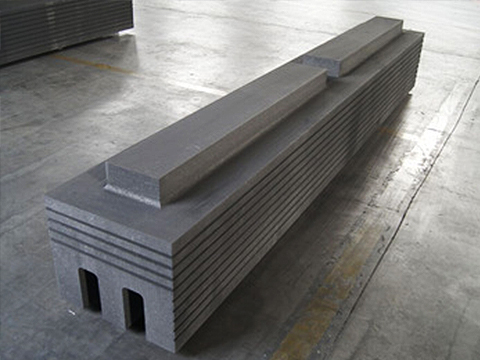 Carbon Brick Performance
Good thermal stability.
Low thermal coefficient of expansion.
High-temperature resistance.
Resistance to acidic erosion.
Resistance to alkali erosion.
Resistance to salt erosion.
Resistance to organic solvent erosion.
Uses of Carbon Brick
Carbon brick is widely used in the field of the metallurgical industry, which can be used as the protection refractory materials for furnace bottom and hearth. Carbon bricks can also be used for aluminum cell, for pickling bath and plating bath in the field of electroplating industry, for dissolving tank in the field of paper manufacturing industry, for reactive tank and storage tank in the field of chemical industry, and for autoclave in the field of the petrochemical industry.
Carbon Brick Specification
Carbon Brick
Item
Unit
Index
Ash content                              <
%
8
Compression strength                      ≤
MPa
35
True porosity                             ≤
%
20
Volume density                            ≥
g/cm2
1.50
Alkali resistance
grade
LC
Fixed carbon                              ≥
%
90
Heat conductivity coefficient(900℃)        ≥
W/(m·K)
5.0
Carbon Bricks Manufacturing Process
The production process of carbon brick is similar to other refractory brick, but the oxidation under the high temperature must be prevented. The calculations of raw materials and the sintering of products must be conducted under the reducing atmosphere.
Calcine anthracite before use to exclude volatiles, sulfur content, and moisture and improve volume stability, mechanical strength, and inoxidizability. Drying coke to prevent the molding problem caused by much moisture and cracks in the firing process. Fuse and dehydrate pitch to lower moisture less than 0.2% and keep the temperature between 120~160℃。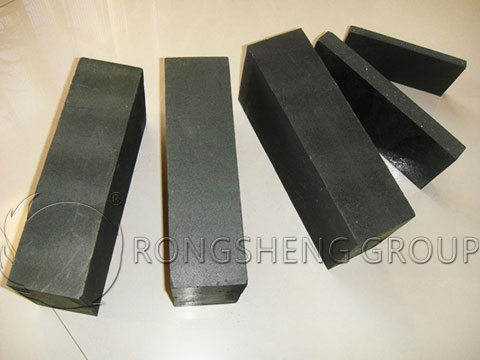 Carbon Brick Manufacturers
Rongsheng Refractory Bricks Manufacturer has over 20 years' history in the production of carbon bricks, which is a member enterprise of China Henan Refractory Industry Association. Since the restructuring in the years of 1992, we have kept a long time technical cooperation with the metallurgy department that we have a strong technical force, advanced production process, good machine equipment, and complete check methods.
Leave Your Requirements on RS Kiln Refractory Bricks And Castable Materials! We Will Reply You In 12 Hours!: