Why choose chrome corundum for sliding rail bricks? The bulk density of chrome corundum bricks are large, usually greater than 3.0, and the bulk density is proportional to the compressive strength and flexural strength, so the compressive strength of chromium corundum slide bricks is also very large. And because chromium corundum itself is a refractory material, it is also a wear-resistant material, so the chromium corundum bricks have very good wear resistance against burning red billets. Chrome corundum refractory bricks have better wear resistance than traditional corundum products and fused-cast corundum bricks. Therefore, according to Rongsheng Kiln Refractory Manufacturer, most of the furnace bottom slide rails, tapping platforms, and tapping troughs of the heating furnaces of most rolling mills are made of chrome corundum, also called Chrome Corundum Slide Rail Brick.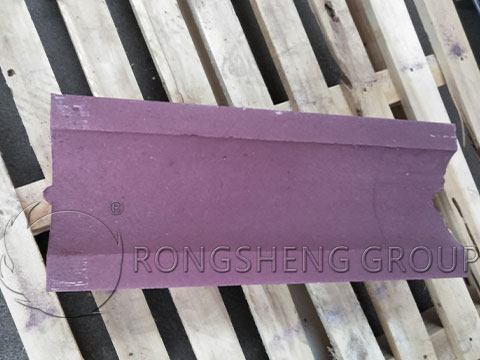 Chrome Corundum Slide Rail Brick
Conventional slide rail bricks, most of which use fired or fused mullite and corundum products. However, the sintered product has pores oxidized, resulting in poor wear resistance. Although the surface of molten cast products is dense and wear-resistant, the problem of internal shrinkage cannot be solved, and the uniformity is poor. With the wear of the dense layer on the surface, the performance of the product drops sharply, and the service life is drastically reduced.
Preparation Methods of Chrome Corundum Slide Rail Brick
As Rongsheng Refractory Bricks' technical team description, chrome corundum slide rail bricks are mainly made of brown corundum, fused chromium oxide green, and chromium corundum clinker. Using aluminum dihydrogen phosphate as a binder, it is molded by a press and then fired at high temperatures. It can also be fired at high temperatures after casting.
The raw material is selected from α-Al2O3, and an appropriate amount of chromium oxide powder and fine chromium corundum clinker powder are added. After molding, it is fired at 1700℃. The chromium oxide content of sintered chromium corundum slide rail bricks is generally lower than that of fused cast chromium corundum bricks. It can also be prepared by a slurry casting method. Mix α-Al2O3 powder and chromium oxide powder evenly. Add gelling agent and an organic binder to make thick mud, and add part of chromium corundum clinker. The bricks are made by grouting and then fired. The main mineral composition is α-Al2O3-Cr2O3 solid solution. The secondary mineral composition is a small amount of composite spinel (or no composite spinel), and the content of chromium oxide is 10% to 15%.
The high-performance chromium corundum slide rail brick uses α-Al2O3 and chromium oxide powder to fill the sintered pores, which greatly improves the density of the material. Introducing a composite binder and highly active AL2O3 and Cr2O3 to form a solid solution of mullite and aluminum chromium. It has high strength, good thermal shock, and low porosity. Therefore, the chrome corundum slide rail brick has good wear resistance and impact resistance. According to the ASTM-704 standard, the wear resistance index of chrome corundum slide rail brick is 1.5cm³, and that of cast corundum is 2.0cm³.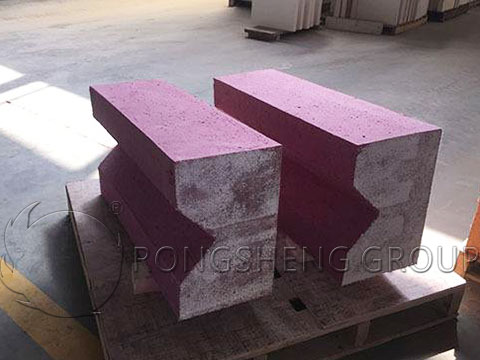 Features of High Wear-resistant Chrome Corundum Slide Rail Bricks
(1) High density. The surface and inner layers are evenly organized. Low porosity, high strength, good high temperature wear resistance.
(2) Good resistance to rapid cold and heat. In the area near the tapping furnace door and the side opening door, although the temperature changes frequently due to frequent opening of the furnace door, the tapping channel bricks have not been cracked so far.
(3) Good slag resistance. The oxide scale does not adhere to the tapping channel bricks, and part of the slag is carried out when the billet is released. It can reduce the number of slag cleaning in the production process and reduce labor intensity during slag cleaning.
(4) The price of chrome corundum slide rail bricks is low. It is not only lower than the track made of high-alloy heat-resistant and wear-resistant steel but also lower than the fused zirconia corundum brick. It is undoubtedly a favorable factor for reducing production costs.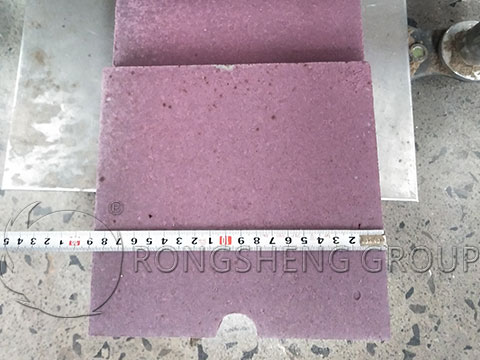 The Application of Chrome Corundum Slide Rail Brick
Chrome corundum slide rail bricks are suitable for all kinds of high-temperature furnaces such as steel rolling furnaces, forging furnaces, annealing furnaces, and electric furnaces. The wear resistance of chromium corundum slide rail bricks is very good, the corrosion resistance of oxidation iron skin is good, the compressive strength is high, and the thermal stability is excellent. High strength, excellent wear resistance, strong resistance to slag erosion, and long life (up to one to two years). Compared with fused cast zirconium corundum bricks and zirconium mullite bricks, it can reduce the number of furnace shutdown and maintenance, save maintenance costs, and increase furnace operation rate.
The chromium corundum castable is used for high wear-resistant steel slide rails and platform bricks for heating furnaces. The wear resistance index is only 1.5cm3. The actual use in more than 40 domestic steel plants shows that its life span is more than twice that of fused cast zirconium corundum products. Compared with the water-cooled heat-resistant cast iron tapping channel, the new wear-resistant products have the advantages of safe and reliable use, energy-saving, and improvement of the quality of the heated body. New wear-resistant tapping channel bricks, platform bricks, and chrome corundum slide rail bricks are the replacement products of traditional products. It is also the preferred ideal product for heating furnaces.
Performance characteristics of chrome corundum slide rail bricks for heating furnace
Push steel slide rail bricks and platform bricks are used on the heating furnace to replace the water cooling pipe system. Generally, it can save energy by about 20% and can eliminate the "black mark" of the billet and improve the heating quality. Under normal circumstances, the maximum temperature in the furnace is about 1200°C-1300°C. During use, the metal guide rail is gradually oxidized, worn, cracked, and damaged. Due to the effect of temperature, deformation will occur, affecting the straightness of the entire track. Therefore, it needs to be dismantled and replaced, increasing the cost of the product, affecting the smooth progress of production, increasing the labor intensity of the workers, reducing the efficiency of the furnace, and wasting energy. It can be seen that the structural materials of the guide rail system should have high-temperature resistance, high temperature creeps resistance, and wear resistance. In the high-temperature field, inorganic non-metallic materials are undoubtedly the most promising, and they are also unmatched by metallic materials. Therefore, a high-performance refractory material was developed to replace the heat-resistant rail.
During use, the slide rail tiles of the heating furnace have to withstand the corrosion of slags such as the oxide scale and the continuous wear and impact of the moving blanks at high temperatures. Therefore, chromium corundum slide rail tiles are required to have the properties of corrosion resistance, wear resistance, impact resistance, and rapid cold and heat resistance. And always maintain high strength during use.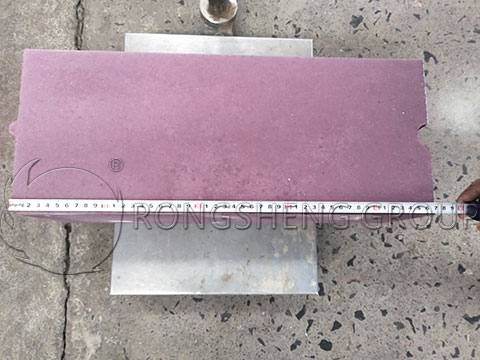 Rongsheng Refractory Brick Manufacturer
Rongsheng is an experienced refractory brick manufacturer. Rongsheng's refractory products have been sold to more than 60 countries and regions all over the world. For example, India, Pakistan, Kuwait, South Africa, Malaysia, Vietnam, Netherlands, Philippines, Singapore, Egypt, Russia, etc. The chrome corundum slide rail tiles that Rongsheng has ordered and sent to customers are zero customer satisfaction in terms of product appearance and product quality. For more information about heating furnace chrome corundum track tiles, chrome corundum slides, steel plate slide tiles, rolling furnace slides, chrome corundum slides, please contact us. Or leave your specific needs on the message board on our product page. We will provide you with refractory bricks for sale that best suit your production needs according to your actual working conditions.
Leave Your Requirements on RS Kiln Refractory Bricks And Castable Materials! We Will Reply You In 12 Hours!: