Ceramic fiber cloth for sale is a kind of refractory insulation materials with excellent properties of high temperature resistance, low heat conductivity, thermal shock resistance and low heat capacity. Refractory ceramic fiber cloth is mainly used for fire protection and expansion joint seal in the furnaces and kilns.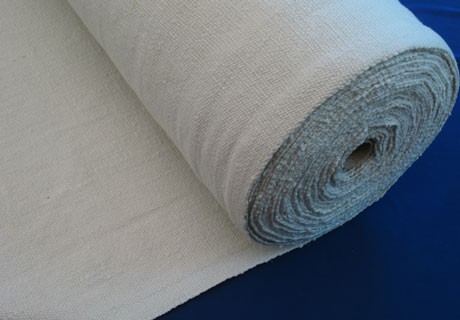 Description for Ceramic Fiber Cloth
Ceramic fiber cloth as a kind of refractory cloth insulation can resist high temperature and save heat energy. Specifications and models of ceramic fiber cloth is 1.5mm-6mm, generally is 1m. Ceramic fiber cloth is divided into nichrome wire reinforcement, stainless steel wire reinforcement, glass fiber reinforcement, ceramic fiber coating cloth, ceramic fiber slag receiving cloth, ceramic fiber sintering cloth and ceramic fiber fuming cloth.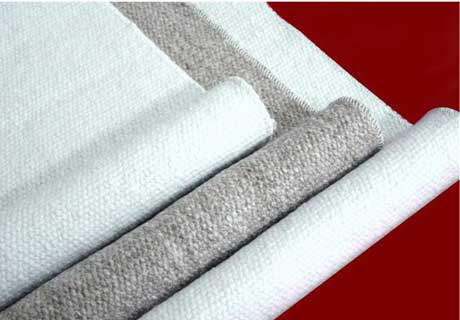 Features of Ceramic Fiber Cloth
High temperature resistance
Low thermal conductivity and thermal capacity
Thermal shock resistance and long service life
Excellent high-temperature insulation
Resistant to nonferrous metals of aluminum and zinc erosion
Good high and low temperature strength
Non-toxic and harmless, no polluted environment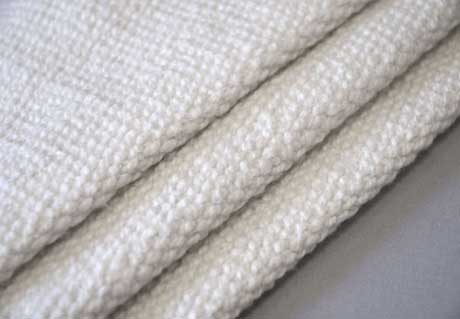 Application of Ceramic Fiber Cloth
All kinds of kiln, high temperature pipeline and vessels heat insulation application
Furnace door, valve, flange seal, fireproof door and fire resisting shutter materials, high-temperature furnace door
Engine and meters insulation, fireproof cable clad material and high temperature fire-proof material
Thermal insulation covering cloth, high temperature expansion gap filler and flue lining
High temperature resistance labour safety product, fire-proof suit, high temperature filtration, sound absorption and other asbestos replacement application field
Advantage of Ceramic Fiber Cloth
Temperature can reach 1000℃ when continuous service and reach up to 1260℃ when service for short time.
With good acid-base erosion and molten metal of aluminum-zinc corrosion resistance
With good high temperature strength and heat insulation property
Ceramic fiber cloth, strips and packing with alkali-free glass fiber as the reinforcing material have higher electrical insulating property and high temperature electrical insulating property than glass fiber.
Non-toxic, harmless and unscented
Reference Index of Ceramic Fiber Cloth
Ceramic Fiber Cloth

Type
Index
Color
White
Maximum Service Temperature
1260℃
Fiber Diameter
1-4μm
Thermal Shrinkage (1232℃,24h)
3.5%
Thermal Conductivity (538℃,8pcf)
0.130w/m.k
Al2O3
45-48%
Fe2O3
0.7-1.2%
CaO and NaO
0.43%
Shot content
<8.5%
Breakdown Voltage
5 kv/mm
Bulk Resistor
5×10  10Ohm
Thickness
1.5mm-6.0mm
Unit Weight
0.5-3kg/m2
Organic Fiber Content
<20%
Moisture Content
<2%
Reinforcing Material
Alkali-free glass fiber nickel chrome wire
Attention for Ceramic Fiber Cloth
Ceramic fiber textiles contain about 15% organic fiber. When use it at the first time, with the temperature rising, organic fiber in the products will carbonize to black and along with phenomenon of smoking and there may be little flame in part position, which is normal phenomenon and will not affect use. With the temperature keeping rising, products will become white color, the organic fiber has been already completely carbonized and there left high temperature resistance inorganic material of ceramic fiber etc. in the products.
Ceramic Fiber Cloth Supplier
Rongsheng refractory factory as a professional kiln refractory bricks and materials manufacturer can provide customers with all kind of quality and cheap ceramic fiber products, such as ceramic fiber cloth, ceramic fiber board, ceramic fiber blanket, ceramic fiber rope and etc. If you need any refractory products for furnace or kiln application or if you just want to learn some refractory materials' application, please contact us! We will be always glad to reply you!
Leave Your Requirements on RS Kiln Refractory Bricks And Castable Materials! We Will Reply You In 12 Hours!: