During the production process of the glass furnace, if one day, you find that the glass failure rate from the glass tank furnace is gradually increasing, and the normal production capacity is no longer stable day by day. The condition of the glass melting furnace itself has also become worse. When you troubleshoot one by one, you will eventually find that the refractories used on the inner wall of the glass tank kiln needs to be repaired or replaced.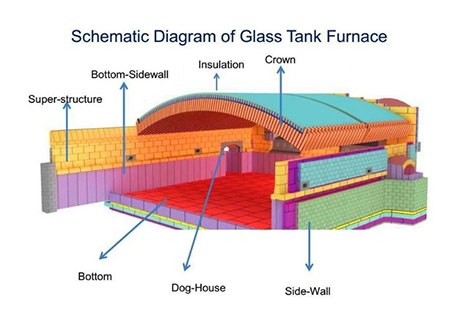 Refractories Used in Glass Kiln Furnace
RS kiln refractories used in glass melting furnace with cheap price are fused AZS bricks, fused corundum bricks, silica bricks, magnesia bricks, high-grade magnesia bricks, magnesite chrome refractory bricks, magnesia alumina spinel bricks, fire clay bricks, high alumina bricks, glass tank furnace refractories, etc.
Why Refractory Materials Used in Glass Melting Furnace?
Extending the service life of the glass tank furnace and improving the quality and quantity of glass is the reason why refractories are used in the glass melting furnace.
The quantity of glass is increasing, and the wear and erosion of the inner wall of glass melting kiln may also become more rapid. Keeping abreast of the refractory material on the glass furnace lining construction and making corresponding replacements plays an important role to ensure the quality and quantity of the glass. Rongsheng kiln refractory manufacturer can provide professional refractory lining with wear-resistant, fire-resistant, and heat-insulating bricks for glass tank furnace refractories. For more information on refractory bricks for glass furnace, please continue reading…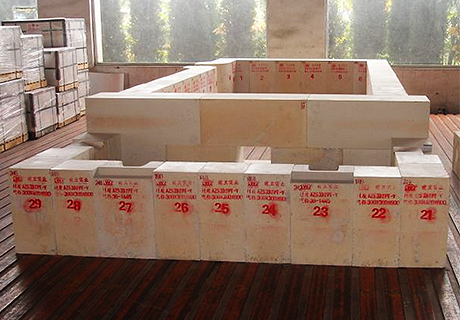 RS kiln refractory materials provide glass melting furnace customers with the customize refractory used in the glass melting furnace. For the latest refractory bricks for glass furnace information and quotations, please contact us.
Leave Your Requirements on RS Kiln Refractory Bricks And Castable Materials! We Will Reply You In 12 Hours!: