Ceramic Fiber Module is a kind of thermal insulation refractory materials for kiln lining construction and improving kiln integrality. Ceramic Fiber Module can be fixed on the refractory anchor nails of kiln shell steel plate in the industrial kiln with the features of white color and regular sizes that . Ceramic Fiber Modules have good thermal insulation effect that can improve the integrality of kiln insulation, which can be used as refractory insulation materials in ceramic industry and steel industry. Welcome to Contact Us for Detailed Information.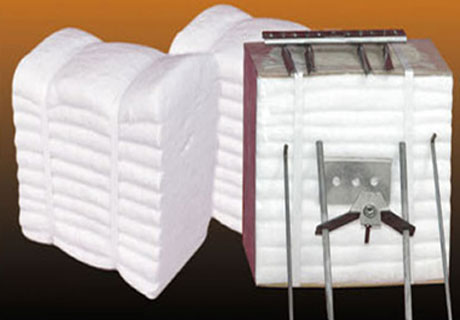 Ceramic Fiber Module Properties
Great elasticity
Easy construction
Light weight
Good chemical stability
Excellent thermal insulation
Excellent thermal stability
Low heat storage capacity
Good thermal shock resistance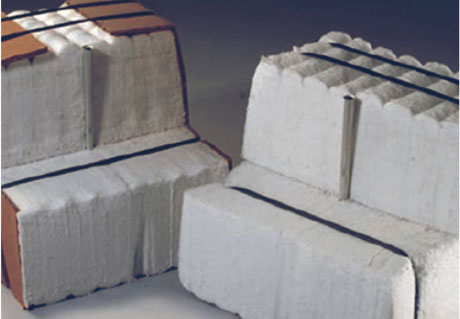 Ceramic Fiber Module Application
Ceramic Fiber Module can be used as thermal insulation refractory for kiln lining in the petrochemical industry, metallurgical industry, ceramic and glass industries, heat processing industry and other industries.
Ceramic Fiber Module For Steel Industry

Ladle pre-heaters and covers
Heat treat furnace
Soaking pit covers and seals
Heaters and reformer lining

Ceramic Fiber Module For Ceramic Industry

Low mass kiln cars
Continuous and batch kilns
Door linings
Glazing, porcelain furnace linings

Ceramic Fiber Module For Other Industries

Incineration equipment
Burner blocks
Induction furnace covers
Glass tempering furnace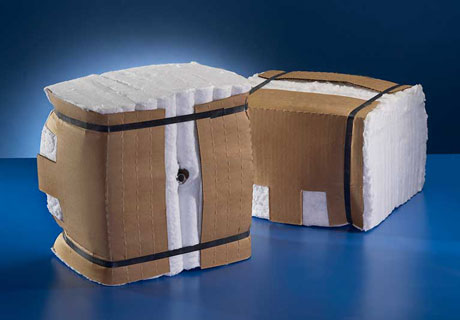 Ceramic Fiber Module Classification
Ceramic Fiber Module can be classified into the following types according to the different molding methods:
Module, including collapse block, block slice and vacuum forming block.
Due to the different of polycrystalline mullite fibre production methods and the crystal orientation structure, the fiber length is shorter and softness, which cannot be made into big modules that prevent polycrystalline fiber from large-scale application. Now polycrystalline fiber is more used as module block in the castable or kiln refractory brick wall, roof surface, which can effetely reduce the temperature of furnace wall and heat loss at the same time.
Ceramic Fiber Module can be classified into the following types according to the temperature grade:
1050 Common Ceramic Fiber Module
1260 Standard Ceramic Fiber Module
1260 High Purity Ceramic Fiber Module
1400 High Alumina Ceramic Fiber Module
1400 Low Zircon Ceramic Fiber Module
1400 Zircon Ceramic Fiber Module
Ceramic Fiber Module Specification
Classification Temperature
1260
1400
Products Code
RSNC-289
RSNC-389
RSNC-489
RSNC-589
Heating Permanent Linear Change (%)
1000℃*24h≤-3
1100℃*24h≤-3
1200℃*24h≤-3
1350℃*24h≤-3
Theoretical Thermal Conductivity

(W/m*k)

Average 200℃
0.045-0.060
Average 400℃
0.095-0.120
Average 600℃
0.160-0.195
Theoretical Bulk Density (kg/m3)
200±10, 220±10
Products Specification
300*300*200/250
Al2O3 (%)
≥45
≥45
52~55
–
ZrO2 (%)
–
–
–
15~17
Al2O3 + SiO2 (%)
≥97
≥99
≥99
–
Al2O3+SiO2+ZrO2 (%)
–
–
–
≥99
Fe2O3 (%)
≤1.0
≤0.2
≤0.2
≤0.2
K2O+Na2O (%)
≤0.5
≤0.2
≤0.2
≤0.2
Ceramic Fiber Module Manufacturer
Rongsheng is a professional ceramic fiber module manufacturer in China. We have advanced manufacturing technology and production equipments for supporting the products quality and cost control. Buy Ceramic Fiber Modules, ceramic fiber module anchor from RS Refractory Materials Supplier! There are high quality and cheap ceramic fiber module insulation refractory materials for sale! Contact us for the ceramic fiber module price.
Leave Your Requirements on RS Kiln Refractory Bricks And Castable Materials! We Will Reply You In 12 Hours!: