Refractory is a material that can withstand a certain temperature. It is an inorganic non-metallic material that has a refractoriness of not less than 1580 ℃ and is resistant to sudden high-temperature changes and slag corrosion, and can withstand high-temperature loads. Commonly used refractory materials are generally divided into shaped refractories and unshaped refractories. Shaped refractory materials generally refer to refractory bricks. Unshaped refractory materials generally refer to refractory castables, ramming mass materials, refractory plastics, refractory mortar, etc.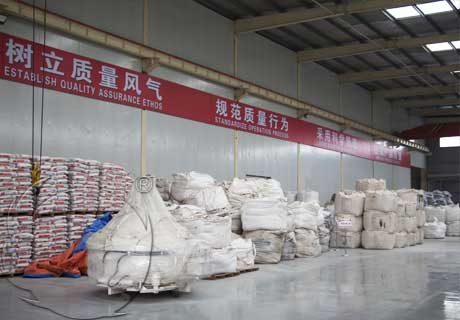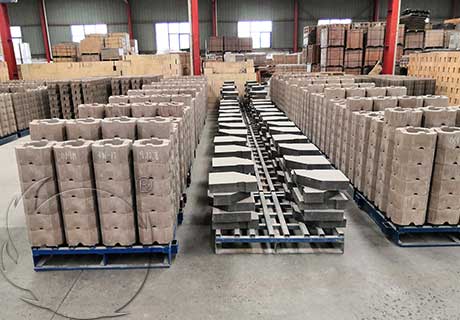 Commonly Used Refractory Materials
According to the shape of refractory materials, they are divided into refractory bricks materials and unshaped refractory materials. The refractory bricks also called the shaped refractory material. And the unshaped refractory material includes refractory castable, refractory ramming mass material, refractory coating and other materials. According to the use of refractory materials, it is divided into ordinary refractory materials and special refractory materials. The common ones are mostly made from common refractory raw materials, and are divided into acidic, neutral and alkaline according to chemical characteristics. Special refractory materials are the inorganic non-metallic materials mostly use ceramic as a binder or recombined on the basis of ceramics. They have a high melting point, high refractoriness, and better characteristics in high-temperature environments.
The range of refractory materials is wide, and the application range is wider, too. Commonly used refractory materials are as follows:
Refractory Bricks
Clay bricks are made of refractory clay or kaolin and clay clinker combined with clay, formed by semi-dry method or plastic method, and calcined at 1250-1420 ℃. The fire resistance of clay brick is generally 1580 ℃ – 1750 ℃, and the load softening temperature is 1250 ℃ – 1450 ℃. Common clay bricks include national standard clay bricks, clay bricks for hot air furnaces, low-porosity clay bricks for roasters, and special-shaped clay bricks are all refractory clay brick products customized by Rongsheng refractory brick manufacturers for customers' equipment.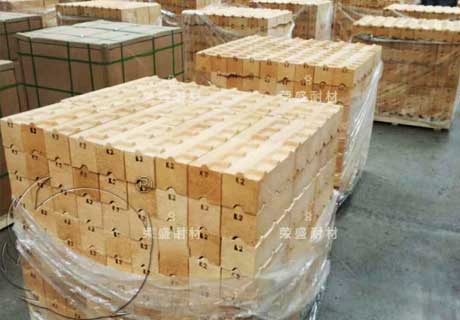 High alumina bricks are made of natural high-grade bauxite, and the minerals contained in it include diaspore, baumeite, kaolinite and so on. Add soft or semi-soft clay to the high aluminum clinker as a binder, then to start batching, mixing, shaping, drying, and finally firing. The refractoriness of high-alumina brick is about 1770 ℃, and the load softening temperature is 1420 ℃ – 1550 ℃. Common high alumina bricks are GLZ-75, GLZ-65, GLZ-55 and so on. In addition, there are micro-expansion high alumina bricks, anti-stripping high alumina bricks, low-creep high alumina bricks, etc.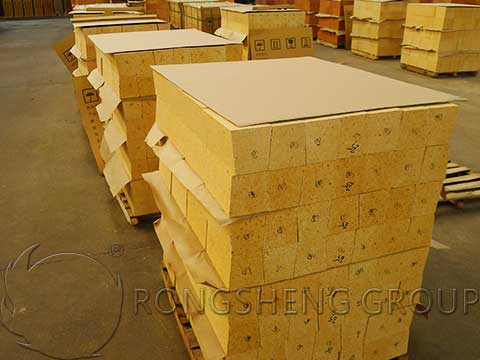 Mullite bricks, silicate refractory products with mullite as the main crystal phase, generally have an alumina content of 60% -75%. According to the production process, they are divided into sintered mullite bricks and fused mullite bricks.
Corundum bricks, refractory products with corundum as the main crystal phase. Common corundum bricks include white corundum bricks, brown corundum bricks, and chrome corundum bricks.
Unshaped Refractory Materials
Clay castable, using refractory clay clinker as aggregate, adding alumina powder and soft clay binder. According to the formula ratio, it is prepared by mixing with a mixer for more than 5 minutes. The operating temperature is generally 1300-1450 ℃.
High alumina castable, using high-alumina bauxite clinker as aggregate, and refractory clay as powder. Add aluminate cement and sodium tripolyphosphate, and mix and mix refractory castables according to the formula ratio. Its use temperature is 1400-1550 ℃.
High alumina refractory coating, with mullite, corundum fine powder, high alumina bauxite as the main raw materials. By adding additives, bonding agents, etc., according to a certain proportion of equipment, mixed and stirred fireproof paint. It can be used for spraying lining of high temperature kiln. Rongsheng refractory manufacturer recently delivered refractory coating for hot air pipeline of Steel Factory.
The silicon carbide ramming mass material is mainly made of silicon carbide, graphite and anthracite. Adding ultrafine powder and other additives, fused cement or resin as a binder, made of amorphous refractories. It can be used in high temperature kilns such as blast furnace, boiler, rotary kiln and so on.
Wear-resistant and refractory plastics are an important variety of unshaped refractory materials. Refractory plastic is a refractory that cannot be combined with water, and is mainly used in circulating fluidized bed (CFB) boilers. Due to shortcomings such as short storage time and poor fire resistance, its application range is limited. However, this refractory material has some irreplaceable advantages, such as the high temperature strength of the refractory plastic construction furnace body, high thermal shock performance, low thermal conductivity, and flexible construction methods.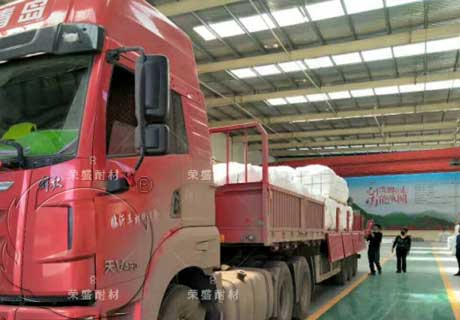 Common refractory materials include refractory bricks and unshaped refractory materials, such as refractory castables, refractory coating, refractory ramming mass materials and refractory plastics, insulating castable. For different high-temperature kiln lining and repair, suitable refractory materials can be selected according to the use requirements and kiln working conditions.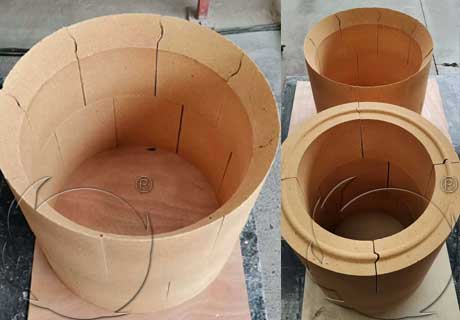 Refractory Materials Commonly Used in Steel Mills
There are many classification methods for refractory materials, none of which is very satisfactory. From a chemical point of view, refractory materials are divided into three categories as general substances: acidic, alkaline and neutral. In theory, acid refractory materials cannot be applied to alkaline slag, alkaline gas or flue gas, and in the above alkaline medium, it is best to use alkaline refractory materials. In fact, for various reasons, these rules are constantly being broken. Therefore, chemical classification has only been academic for a long time, and has little value for guiding practical applications. It is also doubtful whether the true neutral refractories exist. Classification by use is a fairly widely adopted method, such as blast furnace refractory materials or oxygen steel-making refractory materials, etc.
What are the Refractory Materials for Blast Furnace?
The blast furnace refractory material is divided into three parts according to its use parts: refractory material for the tapping field, refractory material for the furnace body, refractory material for the hot air furnace and auxiliary equipment.
The Refractory Materials Used in Steelmaking Furnaces
Refractory materials are important materials used in the steel industry. It is mainly used in the lining of steel-making furnace and iron-making furnace. Lining of steel ladle for loading and transporting metal and slag. The next process heats the furnace lining of the billet. And the lining of the flue duct and blast furnace shaft that conducts heat. Therefore, to put it simply, we can regard it as a structural material, they can withstand temperatures of 260 – 1760 ℃.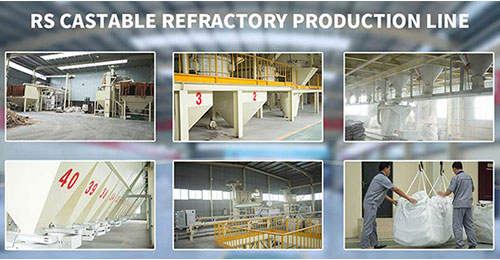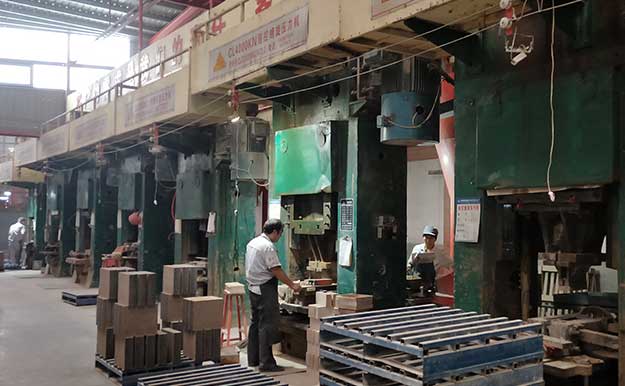 Rongsheng Refractory Sales
Rongsheng refractory materials are sold in more than 60 countries and regions around the world. Such as Malaysia, South Africa, India, Indonesia, Pakistan, Netherlands, Kuwait, Kenya, Rissia, United States, etc. The advantages of Rongsheng refractory materials are insulating fire brick, fire clay bricks, refractory anchors, refractory mortar, castable refractory, castable refractory cement, etc. For the furnace lining in the steel making industry, foundry industry, cement industry, glass industry, etc. To obtain the latest refractory quotation, please leave your needs and working conditions on the message board. Or send us your request via email. We will reply to you as soon as possible.
Leave Your Requirements on RS Kiln Refractory Bricks And Castable Materials! We Will Reply You In 12 Hours!: