Among silicon-aluminum refractory castables, refractory castables with Al₂O₃ content greater than 90% belong to corundum castables. Corundum refractory castables have high bulk density and impact resistance. As a high-temperature and wear-resistant material, corundum refractory castable can withstand strong impact, low wear coefficient, corrosion resistance, good strength, and high load softening point.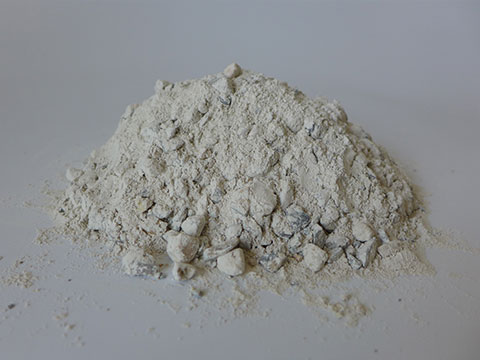 What is the Castable Refractory Composition for Corundum Refractory Castables?
The raw material combination of corundum castable has many forms.
(1) Use white corundum as aggregate and powder.
(2) Use plate-shaped alumina and dense (sintered) alumina as aggregates, and use dense (sintered) alumina as powder.
(3) Sub-white corundum/brown corundum is used as aggregate, and dense (sintered) alumina is used as powder.
(4) Use white corundum and super bauxite clinker as aggregate, and white corundum as powder.
In order to improve the matrix properties of corundum refractory castables, white corundum powder or plate-shaped alumina powder is usually used as its powder composition. According to the requirements of the target performance of the corundum refractory castable, the particle distribution coefficient (q value) is reasonably selected as the matching particle ratio of the formula. Combined with the active fillers in the system, SiO₂ powder (often called silica fume, abbreviated as uf-SiO2) or active α-Al₂O₃ powder (abbreviated as uf-Al₂O₃) is commonly used. According to application requirements, corundum refractory castables can generally be formulated with cement (LCC and ULCC) or without cement (NCC). The former uses cement or cement and active superfine powder as the binding agent, while the latter uses active superfine powder as the binding agent. At the same time, a high-efficiency surfactant (high-efficiency dispersant and water-reducing agent) is added to disperse the binding agent and active filler and reduce water consumption.
Generally speaking, the total amount (mass fraction) of powder + active filler (ultrafine powder) in corundum refractory castable is 30% to 34%. When the material is different, the amount of active filler will be different, but the optimal amount of active filler is between 4%~10%. In addition, high-efficiency surfactants (high-efficiency dispersants and water-reducing agents) need to be added to the corundum refractory castables to disperse the binder and active fillers. In order to make the corundum refractory castable slurry obtain good fluidity and better construction performance.
In corundum refractory castables, the amount of binder, active filler, and additives is very small, but they are all three very important complementary components and are indispensable. The choice of each component has become a key factor in controlling the rheological properties of corundum refractory castables. The selection criterion is to ensure that the corresponding corundum refractory castable meets the requirements of construction performance. This can be achieved by optimizing additives (high-efficiency dispersants and water-reducing agents). For example, multiple additives (composite additives) can be added, each of which has a different function to change the rheological properties of the corundum refractory castable.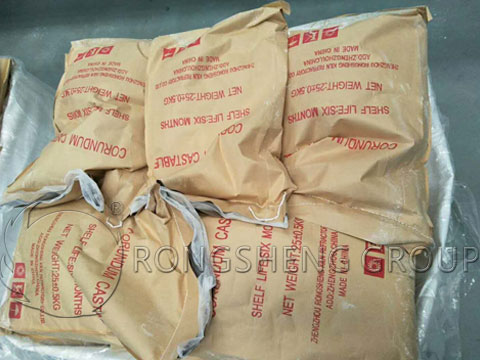 Drying Process of Corundum Castable
The temperature rise during the drying process of the corundum refractory cast body is a very important process and requires a careful operation. In the initial stage of drying, f-H₂O is mainly discharged from the pores of the corundum refractory castable body. As the temperature continues to rise, the hydrate will undergo a series of dehydration processes and changes in the microstructure of the binding phase. Take the low cement corundum refractory castable as an example to illustrate the dehydration process and the changes in the microstructure of the binding phase during the entire heating and drying process.
① Between room temperature and 100°C, cement hydration products gradually transform into relatively stable AH₃ and C₃AH₆ phases, and f-H2O is discharged.
②At 100~300℃/350℃, AH₃, and C₃AH6 phases gradually decompose into some amorphous anhydrous products, and f-H₂O(g) is discharged at the same time.
③When the temperature exceeds 800~900℃, the product after the decomposition of cement hydration products will continue to react with certain mineral phases of the matrix, and finally form a ceramic bonded phase.
In the whole process, the strength of the material is continuously increasing, so as to obtain an ideal refractory castable body.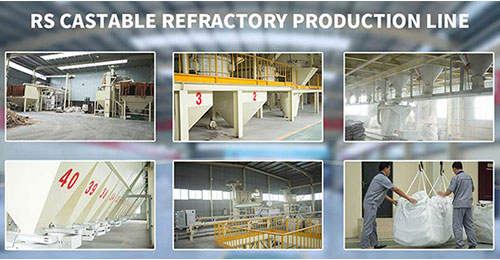 Corundum Refractory Castable Manufacturer
To purchase high-quality corundum refractory castable products, please contact a competent refractory manufacturer. Rongsheng refractory material factory has an environmentally friendly and fully automatic monolithic refractory production line with an annual output of 80,000 tons. Rongsheng's unshaped refractory production line can also produce customized refractory castable products for customers. These unshaped products can be applied to different working lining positions of thermal furnace equipment according to their respective use characteristics. For the solution of refractory castable lining, please contact Rongsheng. Rongsheng will provide you with monolithic refractory materials that are most suitable for your production needs according to the working conditions of your specific thermal furnace equipment.
Leave Your Requirements on RS Kiln Refractory Bricks And Castable Materials! We Will Reply You In 12 Hours!: