Baffle bricks are also called fire-stop bricks and stop-block bricks. It is generally installed behind the burner of the regenerative heating furnace to support and strengthen the ceramic regenerator material. Rongsheng Kiln Refractory Manufacturers can provide you with high-quality corundum mullite baffle bricks. For more information, please contact us.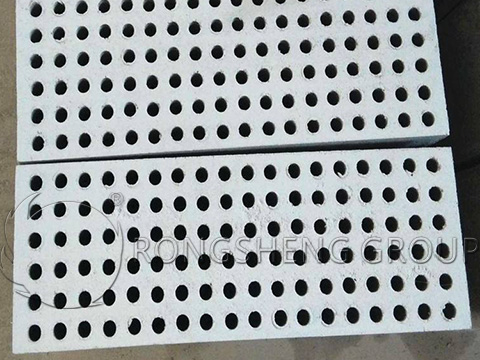 Corundum Mullite Baffle Bricks
Corundum mullite baffle bricks can be used in various regenerative combustion systems with honeycomb bodies and used at the front end of the regenerative body of the regenerative heating furnace. Its function is to protect the heat storage body and prolong the service life of the heat storage body. Therefore, high-temperature resistance and thermal shock performance are the primary factors for selecting baffle tiles.
Rongsheng refractory manufacturer's corundum mullite baffle bricks have the characteristics of good thermal shock stability, high softening point, strong chemical resistance, and good thermal shock resistance. It can ensure the good performance and service life of the regenerator during use, greatly reduce the shutdown time of the steel plant and reduce the production cost. The dimensions and structure of the baffle brick can be produced according to the requirements of the user's drawings.
The baffle bricks are divided into baffle bricks of conventional materials such as mullite, corundum mullite, and fused corundum. It can also produce chromium corundum mullite and zirconium corundum mullite baffle bricks with excellent slag resistance and thermal erosion resistance and used in harsh environments. In this way, the service life of the honeycomb regenerator can be well guaranteed, and the shutdown time of the steel plant can be greatly reduced and the production cost can be reduced.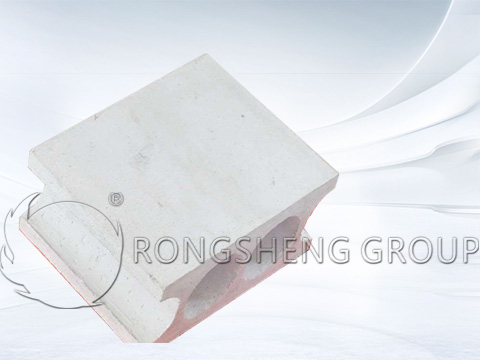 Why Can Corundum Mullite Bricks be Used as Baffle Bricks?
Why can corundum mullite bricks be used as baffle bricks? It is due to the advantages of corundum mullite bricks. It can be analyzed from the production process, the physical and chemical properties of corundum mullite bricks.
Advantages and characteristics of corundum mullite bricks
(1) High-temperature resistance, high refractory temperature, and high load softening temperature.
(2) Chemical resistance, strong resistance to acidic solutions, or molten slag.
(3) Antioxidant. It is not easy to react with O2, H2, CO, and other gases.
(4) Good thermal stability, stable volume at high temperature, not easy to expand or shrink.
(5) Good thermal shock resistance, resistance to rapid cold and heat, and not easy to peel off.
(6) High compressive strength at room temperature and it is not easy to wear when handling or unloading.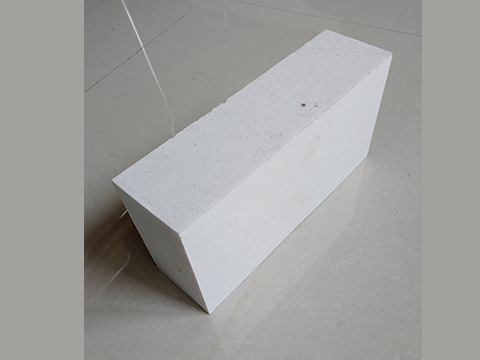 The production process of corundum mullite brick
The green body of corundum mullite brick is formed by a 300t friction press, and the green body density is 2.7g/cm3. The green body is dried in a tunnel dryer. The inlet temperature is 40~50℃, the highest drying temperature is 130℃, the drying time is 48h, and the body moisture is not more than 1.5%. The products are fired in a tunnel kiln, the firing temperature is 1550℃, and the holding time is 10h.
The physical properties of corundum mullite bricks
The high-temperature main crystal phases of corundum mullite bricks are corundum and mullite. The crystals of corundum are short columnar and barrel-shaped, and they are not interspersed or staggered in the refractory structure. The corundum crystals are embedded with interlaced columnar crystals of mullite, which effectively prevents the slip of the corundum crystals and obtains a stable structure. Because the crystal structure is more stable, it is more conducive to the excellent performance of mullite or mullite and corundum. For example, the melting point is 1870℃ for mullite and 2050℃ for corundum; the eutectic temperature of the two is higher, which is 1840℃. It is conducive to the improvement and enhancement of the high-temperature performance of the material.
Corundum mullite bricks can be directly exposed to flame, peel off, and high temperature. It can be used as the heat insulation lining of high-temperature industrial furnaces and the working layer of other industrial high-temperature furnaces. Mainly used in the petrochemical industry, large and medium-sized synthetic ammonia gasifier and magnetic material gas furnace materials, high-temperature industrial furnace supporting facilities materials.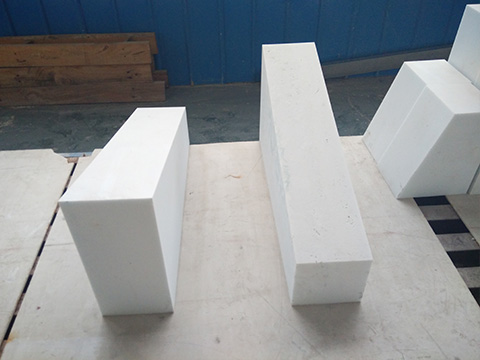 The main application of corundum mullite bricks
Corundum mullite bricks can be used in high-temperature furnaces in ceramics, steel, building materials, non-ferrous smelting, light industry, and chemical industries. Used with honeycomb ceramics. Industrial kilns such as blast furnace ceramic cups, melting gasifiers, and carbon black furnaces also use corundum mullite bricks.
Rongsheng Refractory Brick Manufacturer
Rongsheng refractory brick manufacturer has rich experience in the production and sales of refractory bricks. As a refractory supplier, Rongsheng's refractory products have been sold to more than 60 countries and regions all over the world. For example, India, Pakistan, Kuwait, South Africa, Malaysia, Vietnam, Netherlands, Philippines, Singapore, Egypt, Russia, etc. Rongsheng's technical team and service team are committed to providing customers with high-quality refractory lining products. Maximize production cost savings. Learn more about corundum bricks, corundum mullite bricks, corundum mullite baffle bricks, and obtain high-quality refractory lining materials. Please contact us, we will provide you with services according to your specific needs.
Leave Your Requirements on RS Kiln Refractory Bricks And Castable Materials! We Will Reply You In 12 Hours!: